Connecting with ipDialog SipTone™ V Phone
This document explains how to use Brekeke SIP Server with the ipDialog SipTone™ V phone. The ipDialog SipTone™ V Phone is a standards-based IP phone that is one of the leading suppliers of innovative telecommunication solutions. It offers know-how and comprehensive technical competence in the field of analogue, digital and IP telephony; ipDialog SipTone™ V phone offers exclusive devices that provide attractive design and user-friendly menu guidance. For more information on this product, please go to http://www.ipdialog.com/
Configure ipDialog SipTone™ V Phone
Set up your ipDialog SipTone™ V Phone, with a fixed IP address (Ex: 192.168.0.11) and subnet mask of 255.255.255.0. Once the IP address is configured you can access ipDialog SipTone™ V phone webpage by http://192.168.0.11/ (example of selected IP address).
Please complete the following steps:
Enter User name: admin (default)
Enter Password: 1234 (default)
Click on [OK] button
Network Setup
Click on the [Network Setup] tab to complete the network setup.
Select [Manual]
Enter the "IP Address": 192.168.0.11(ex)
Enter the "Netmask": 255.255.255.0(ex)
Enter the "Gateway": 192.168.0.2(ex)
Click on [Commit] button
Phone Configuration
Click on the [Phone Configuration] tab, sign the phone numbers to phones lines
User ID: 3456 example phone number
Password: only for User Authentication
Click [Commit] button.
Brekeke SIP Server Setting
On the [Servers] tab
select phone line: Line 1(e.g.)
REGISTRAR: Manual
SIP URI: enter the Brekeke SIP Server's IP address
SIP Proxy: enter your SIP proxy IP
Click [Commit] button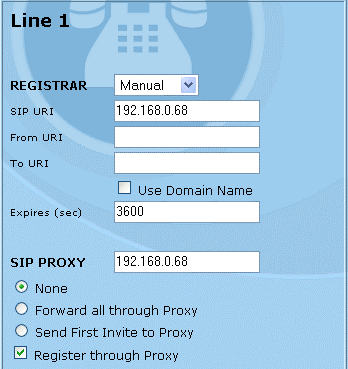 Brekeke SIP Server's Registration Page
Click the [Registered Clients] tab of Brekeke SIP Server admintool.


SipDialog SipTone™ V Phone is registered with Brekeke SIP Server.