Connecting with X-lite
CounterPath's X-Lite is the market's leading free SIP based softphone available for download. Combining voice and video calls, Instant Messaging and presence management in an intuitive and familiar interface, X-Lite helps you seamlessly transition from a traditional hard phone environment into the world of Voice over IP.
http://www.counterpath.com
Install and Start X-lite
Download and install X-lite from http://www.counterpath.com/x-lite.html 
If this is the first time installation, X-lite will popup a window, like below, to Start configuration.
Or you can click the [▼] arrow on X-lite phone skin,and select [SIP Account Setting] to start.
Click on the [Add…] button

X-lite SIP Account Configuration
When you click on the [Add…] button, a new [Properties of Account] window will be open like below.
Or you can select the existing account and click [Properties…] button to edit an existing account information.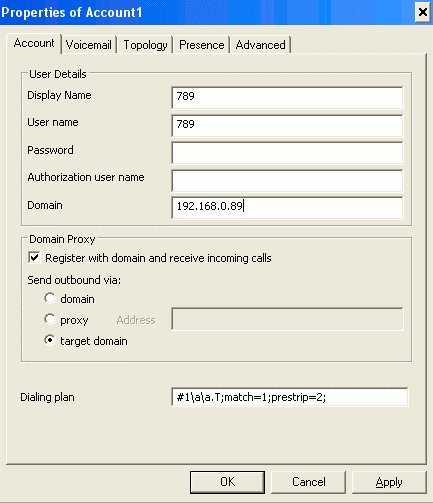 Display Name: 789(ex) or your phone name
Username: 789(ex) phone number
Domain: 192.168.0.89(ex) or Brekeke SIP Server's domain name or IP address
Check [Register with domain and receive incoming calls]
According to your need to select [Send outbound via] type
click on [Apply] and [ok]
Register to Brekeke SIP Server
After setup X-lite SIP account, and apply the settings, the account information will be listed in the SIP Accounts page like below.
Check the box before the account you want to use to enable it, and click on [Close] button to make the account settings take effect.

Brekeke SIP Server's Registration Page
Click the [Registered Clients] tab of Brekeke SIP Server admintool, and see X-lite is registered to Brekeke SIP Server.