Connecting with Yealink Phones
This document explains how to use Brekeke products with Yealink hard phones. The Yealink SIP Phone is especially designed for power users in the office environment. For more information on this product, please go to http://www.yealink.com/en/products.asp
Confirmed Models:
Yealink SIP-T28P, Yealink SIP-T20, Yealink SIP-T4 series
Configure Yealink Phone
Set up Yealink phone with a fixed IP address (Ex: 172.16.200.50) and subnet mask of 255.255.0.0. Once the IP address is configured, you can access phone webpage by http://172.16.200.50/ (example of selected IP address).
Please complete the following steps:
Enter User name: admin (default)
Enter Password: admin (default)
Click on [OK] button
Network Setup
Basic Settings:
Click on the [Network] tab, and move to the [Basic] menu to complete the network setup.
Select [Static IP Address]
Enter the "IP Address": 172.16.200.50(ex)
Enter the "Netmask": 255.255.0.0(ex)
Enter the "Gateway": 172.16.0.1(ex)
Click on [Confirm] button

Recommended setting:
It's a highly recommended setting. To prevent rush of REGISTER messages from multi devices to the Brekeke product just after the system becomes available, Set "60"(sec) on the [Registration Random] field.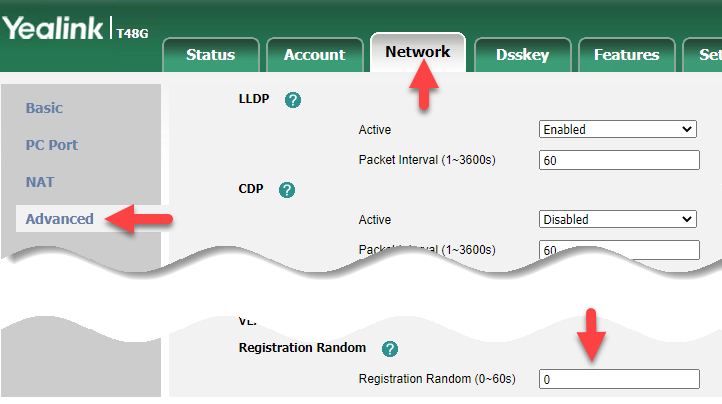 *1. "Registration Random" can be set with the parameter "sip.reg_surge_prevention =" on the provisioning config file.
Phone Configuration
Click on the [Account] tab, and set up
1. choose line from Account field
2. Register setting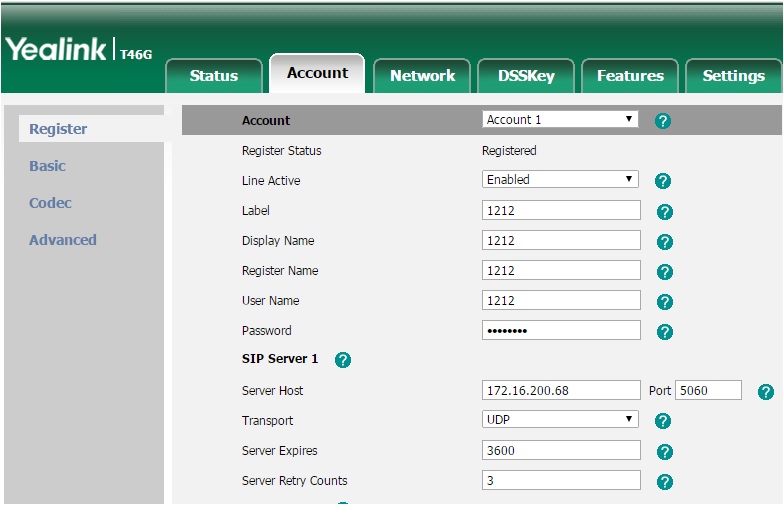 Line Active: Enabled
Label, Display Name, Register Name: 1212 example phone number
User Name: 1212
Password: 1212 -- set when REGISTER and INVITE Authentication are set ON at Brekeke side
SIP Server: 172.16.200.68 (ex)
3. Advanced Setting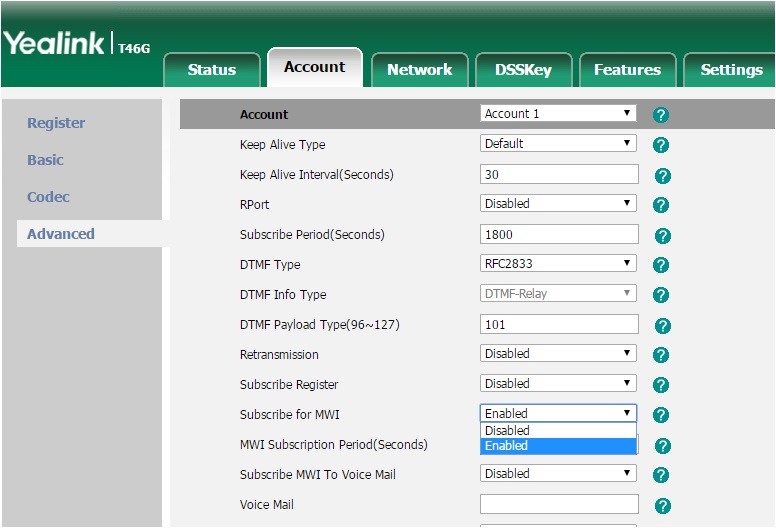 Subscribe for MWI: Enable
4. Click on [Confirm] button
Brekeke SIP Server's Registration Page Click the [Registered Clients] menu of Brekeke product admintool >[SIP Server]

Yealink Phone is registered at Brekeke SIP Server.
*1. If you use TLS as a transport protocol instead of UDP, because Yealink devices only accept trusted certificates as default, you need to prepare a real trusted certificate for TLS settings at Brekeke SIP Server.
As other way,  If you set the [Only Accept Trusted Certificate] field disable at [Security] ->[Trusted Certificates]  in Web admin menu of Yealink phone,  the Yealink device allows TLS connections used un-trusted certificates.