Connecting with AudioCodes MP-104
The MP-104/FXO is a 4-port telephony Media Gateway. You can configure this device to work with PBX to leverage your broadband phone service connections by automatically routing local calls from cell phone and land line to a VoIP service provider and vice versa. This document will explain how to set up the Automatic Route Selection (ARS) for the MP-104/FXO. For more information on this product, please go to AudioCodes company website
MP-104/FXO Hardware Installation
The MP-1xx/SIP User's Manual is available at:
http://corp.deltathree.com/productsandservices/manuals/audiocodes.pdf
Please refer to section 2.1, Hardware Installation Procedures, in this manual.
Using a Web Browser to Enable Service 
The MP-104/FXO has the Web Configurator that allows you to easily view and manage your gateway's settings through an internet browser. Please follow the instructions below carefully.
Run a web browser application on the same network that the MP-104/FXO is connected.
Log in to the setup menu by typing: http://[mp-104 ip address] where the [mp-104 ip address] is the ip address (without the [ ]) of the device
The following is a guide for configuring the MP-104/FXO to work with PBX to allow you to make and receive VoIP calls. Please note that only required parameters, within the PBX and SIP server domain, are discussed here. If you need to understand other parameters or settings, please consult the User's Manual of this product.
1. Quick Setup
This is where you set up the IP addresses and SIP parameters.
IP Address: ip address of the device




Default Gateway IP Address: ip address of the default gateway




Working with Proxy: Yes




Proxy IP Address: ip address of the machine where PBX SIP server is running




Proxy Name: Name of the proxy server (optional)




Enable registration: Yes




1st Coder: VoIP Coders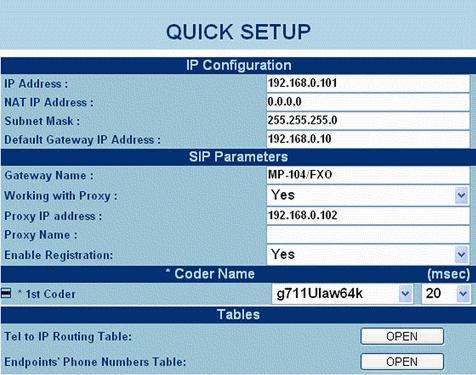 2. SIP Definitions
Click "Protocol Management", then select the Protocol Definition menu. You can follow the settings described here, but remember to change the following fields for your network: Enable DTMF, Proxy IP Address, Registrar IP Address, and User Name.
Change the following fields according to your needs:
Max Digits In Phone Num
Interdigits Timeout
Dial Tone Duration
Dialing Mode
Dial Tone Duration
Dialing Mode
NOTE: The settings in this menu are specific to your network.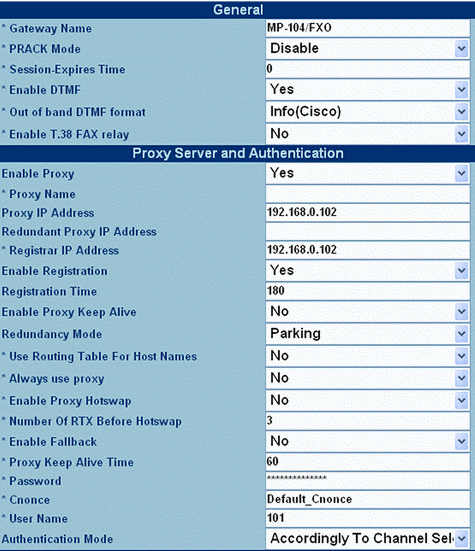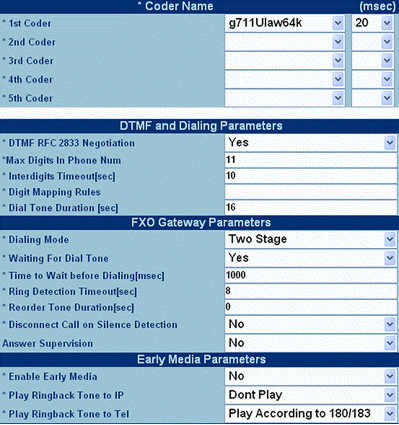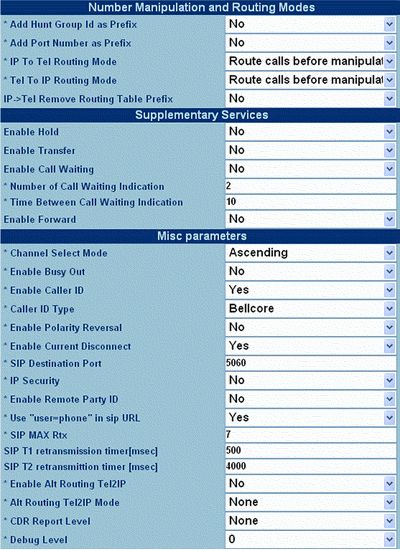 3. End Points' Phone Numbers
Select End Point Phones' Number menu. Map each channel to the phone number from which you want to receive the call.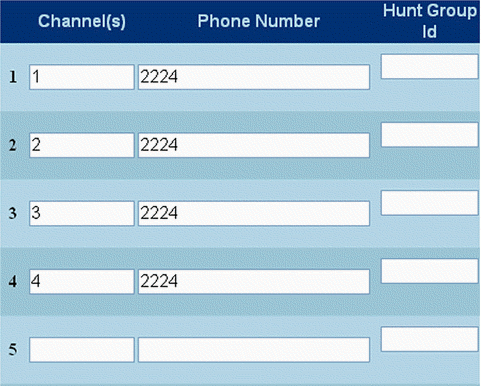 4. Network Settings
Click Advanced Configurations, then select the Network Settings Menu.
5. Channel Settings
Select Channel Settings menu. Change your channel settings parameters here.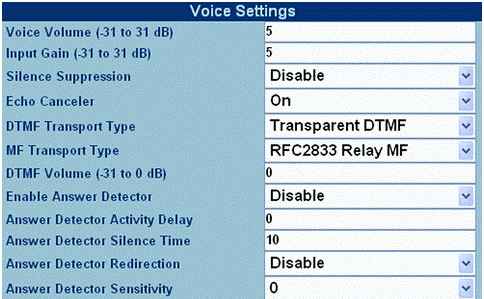 6. One-Stage Dialing
The image below shows the settings for One-Stage Dialing.
To make a call:Dial PSTN phone number of the destination

7. Two-Stage Dialing
The image below shows the settings for Two-Stage Dialing
To make a call: Dial 101# and wait for the dial tone
Where 101 is the value that was set in the User name field (see menu Proxy and Authentication)
Dial phone number of the destination

Dial Plan or ARS Setting for MP-104/FXO
For Brekeke SIP Server Users, please check wiki post Connecting Gateways with BSS
For Brekeke PBX users, please check wiki post Connecting Gateways with BPBXor Update Issues from v2.2.7.7 and before
Sample ARS Pattern-OUT for MP-104 at [Brekeke PBX Admintool]>[ARS]>[New Route]
Pattern – OUT
----------------------- 




Matching Patterns: 




To=sip:([0-9]{7,25})@





Deploy Patterns: 




To=sip:$1@gateway_IP




------------------------